In a game like Bannerlord economics can play a key role in your success. Being well off enables you to buy amazing gear, afford giant armies, and splurge to your heart's content at the later states. There are some easy things someone starting fresh can do to get ahead.
I go over a couple of different ways. Such as using ways like questing that does not make a lot to work with other things you are doing. Farming Sea Raider patrols which are where I've earned most of my money. Finally, I go over trading for those looking for a more peaceful way to go about earning. All of these are great for those who are just starting and do not require much to get started.
Questing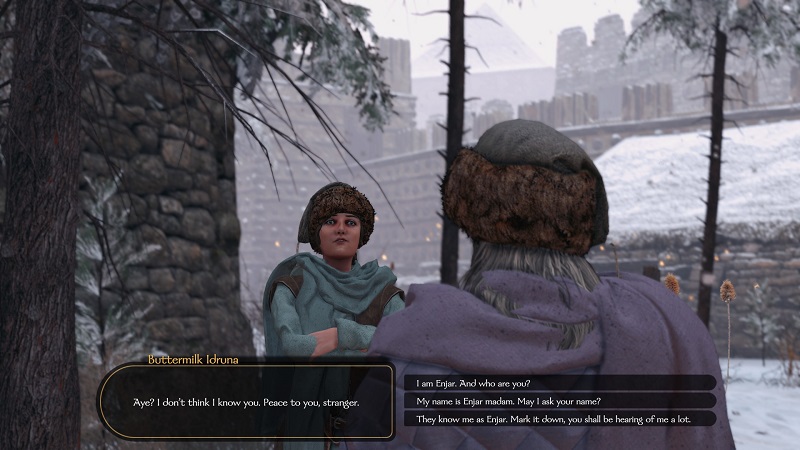 For me so far questing has been the least amount of money I've been able to make for my time. It can oftentimes require you waiting days or travel far distance to do. With that said there can still be some quick and easy ones to keep an eye out for.

If you plan on staying in an area for an extended amount of time due to farming denars (money) from other methods I'll be listing below. It can be a good idea to check quickly with any towns or villages in that area if someone has a quest for you. This is quite simple to do as when you are in the town viewer, for instance, people with a quest will have an exclamation mark next to their names and you can click on them.

While the rewards tend to be bits lackluster like 500 denars or less in many cases. They can also provide faction reputation both positive and negative. Sometimes you luck out and you find some with the synergy of what you are already doing. So it's like getting a bonus on top of everything.
Farming Sea Raiders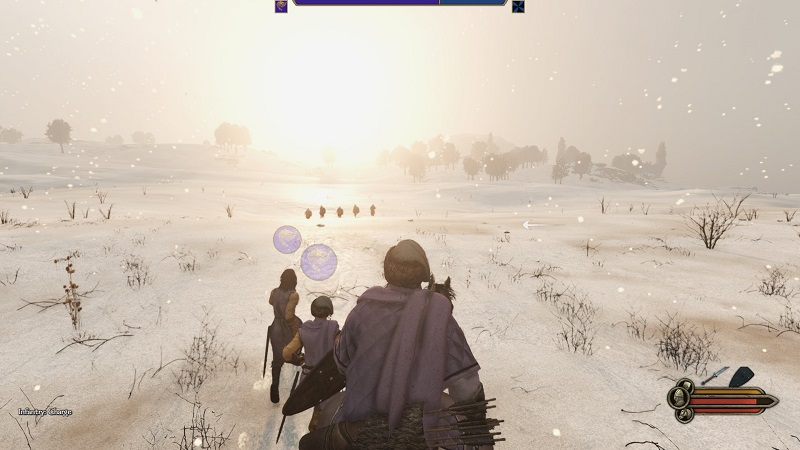 For me, the fun way to farm denars and even loot is from combat. Attacking Sea Raider's patrols can drop some amazing. While on average from what I've seen has more denars worth of loot over other pirate factions like the forest, pillages, and so on. They are found spawning around Sea Raider hideouts.

Finding a Sea Raider hideout is quite easy. I rushed all the way north up to the top of the map to find my first one. This is where they were in games like Warband. They, however, can be in a lot of different places than that so you might need to explore for a bit.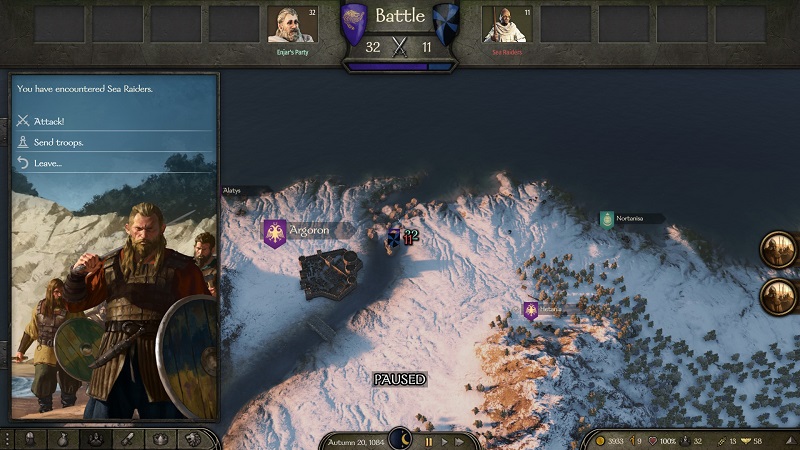 While the Sea Radars do appear to enjoy the snowy parts of the map and that tends to be a good spot to find them. I've even seen them along the shoreline of greener areas as well. More times than not next to a large town of all things. Making it easy to farm a bunch of their paroral and then sell off any loot you are not keeping for yourself.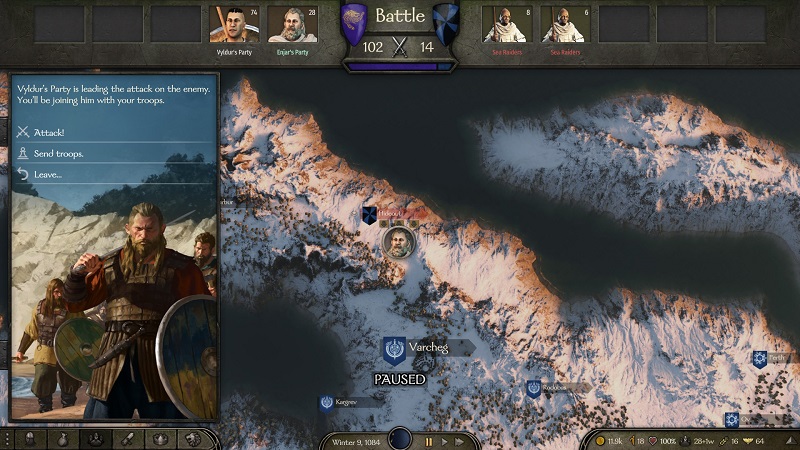 Another location of Sea Raiders I happened to find.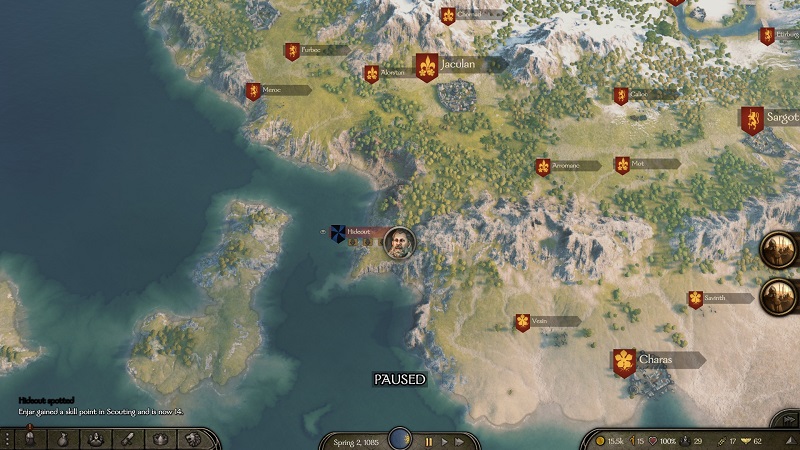 These seem to enjoy the forest along the edge of the sea instead of the snow! I found about four hideouts so far on my map. So just search the sea edges of north and north-west along the sea.

While Sea Raiders are some of the hardest to fight as opposed to something easy like pillagers. I was still able to defeat them on a fresh start. The key is simply having more soldiers than they have. As long as you overwhelm them by five or more units the fight can be won without a single loss on your side.

The Bannerlord map also has a lot of chokepoints and dead-ends in it. If you get really lucky you can farm the Sea Raiders in a part of the map they don't have far to run. If not make sure to save any horses you loot from attacking other types of patrols as that seems to affect your overall moving speed on the map and is notated in one of the in-game tips as well.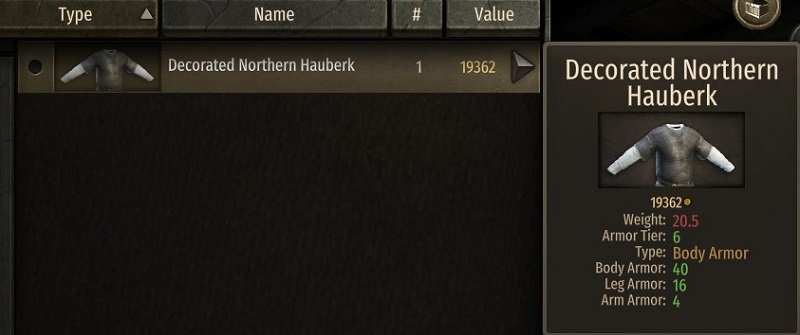 Who knows you might even luck out and hit a nice drop. I got this one off a small group of three Sea Raiders. A nice 20k sale if I was not keeping it for myself. It's nicer than anything I've seen in a shop to buy. I also have a feeling they would not be willing to sell me something this nice for so cheap!

While you are attacking the Sea Raider patrols you will also have the opportunity to capture or maybe even free some folks. Most times after raiding a couple I'll have two or three hundred Denars worth of raiders to ransom. While it's not a lot it adds along with the couple of thousand I'm usually getting from selling items.

When selling a stack of items like body armor or shoes make sure to hold down shift while you are doing so. They sell-off as a stack instead of one at a time. Saving you time and having to click a dozen times on single items that are the same.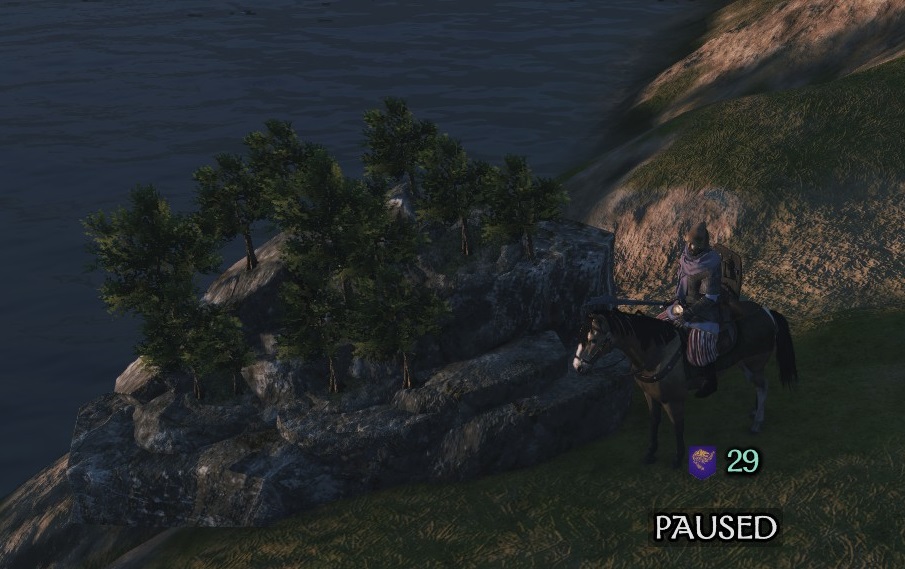 As far as attacking Sea Raider hideouts I would not recommend even when that part of the game is working. Once you destroy a hideout the patrols stop spawning in the area of that type. While yes they can be loaded with fat loot you now have no hideout and have to wait for one to spawn.

At the time of writing this, you also can't destroy by attacking Sea Raider hideouts. At least from my few attempts at doing so. You end up stuck on a loading screen. Even after thirty minutes of waiting it was still attempting to load their hideout. The only way out is forcing the game to close and losing any progress you made. If you are going test to see if they are working again make sure to make a game save first.

I have also kept my number of troops from getting too high. I don't want my payroll to fund my army or cost of food cutting too much into my bottom line. Since I've been hitting other targets I have up to 30 troops now. When I was just doing Sea Raiders I found 15 to 20 to be more than enough.

This is how I got a lot of my wealth early game. It was a very low risk. After a while, in an area, they tend to stop spawning for a while. I usually take that as a sign to move on and find another hideout. Now that I know where a few are on my map I can just run over to them now.
Trading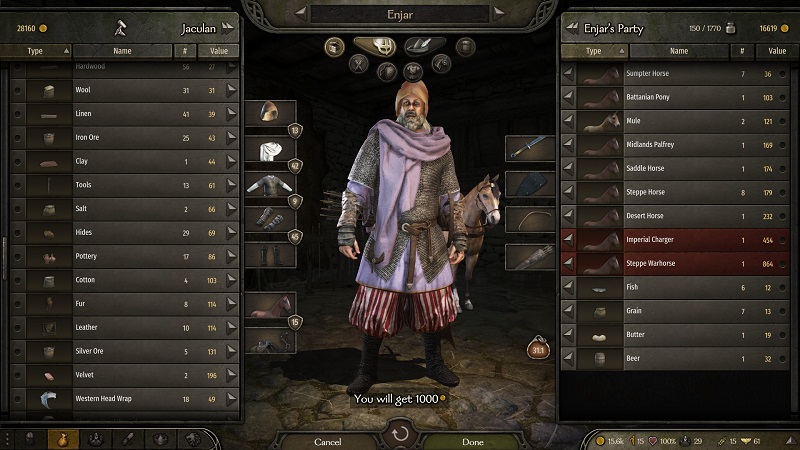 While not something I've done a lot of. Trading can become quite profitable once you have a couple thousand to spend and an army to hold a lot of goods. The good news is you usually don't have to travel far for a couple of denars per-item profit. The bad news is markets can change rather fast in this game so you might not have as good of a deal as you thought.

This is simple to carry out but does require you to pay some attention. You want to buy low and sell high. A good way to do this is to keep an eye on costs in a region. The game helps out a little bit by providing some information it, however, can be outdated by the time you get around to selling.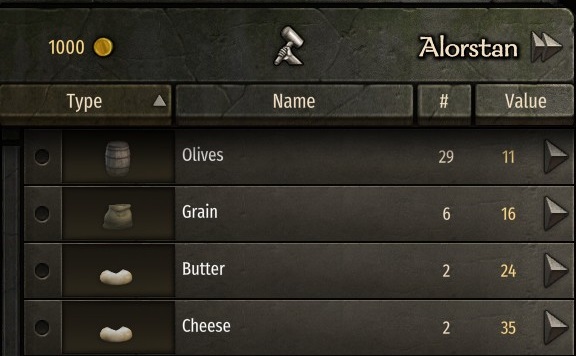 I tend to check villages for items to sell. They do hold a decent size quantity of stuff they are selling. You are looking for food or stuff that can be used in manufacturing like furs and tools. Just make sure your soldiers don't eat all your profit too much they sure love rice grain and cheese!

Once you go on a bit of a buying spree from the local villages of items you know you can sell for a decent markup. It could be as simple as going to the local town to sell or just a few away. That is right you might not have to travel across the map to some far away distance land for twenty minutes to get a decent deal. Other times you might.

While getting 5 to 15 denars or more per item sold might not sound that exciting or a lot at first. If you have enough money to load up your bag space you could be seeing quite some profit.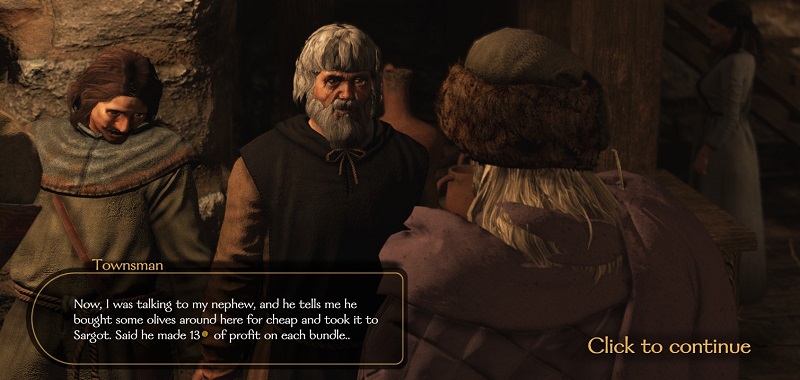 In case the local area is not working out so great or it was a bug and they patch it to make trading require more distance. Items can display trade rumors on them about prices. This can sometimes guide you in a direction to go if you know where to find a bunch of an item. This kind of information can be discovered by talking with random townsfolk in the Taverns.

Don't forget to hold down shift when mass buying or selling items. That way you are not trying to sell bulk goods one at a time. In some situations, you might find yourself in the village that is selling everything you want to buy. In those instances, you can click on the double arrow at the top of the trade window to select it all to be bought.

I've also seen a lot of towns with 30k or more denars so sometimes you are lucky and can sit in an area for quite some time if you are feeling up for finding and selling that many items. You can extend it even further before waiting for that area's money to rest if you happen to find items you want to buy from that town.
Final Thoughts


While there are a bunch of other ways to make denars in Mount & Blade II: Bannerlord. These three are the more basic and low barriers to entry to get started. In another post I'll be going over some others that involve a lot more risk, damage to reputation or even a higher bankroll to be able to afford just starting them up.

Hopefully, soon enough you will be rolling in a pile of coins, wearing shiny armor and be too fat to ride a horse! Along with a giant army to follow you around that won't make you broke to feed and pay.
Other Content
Information
Screenshots were taken and content was written by @Enjar about the game Mount & Blade II: Bannerlord